---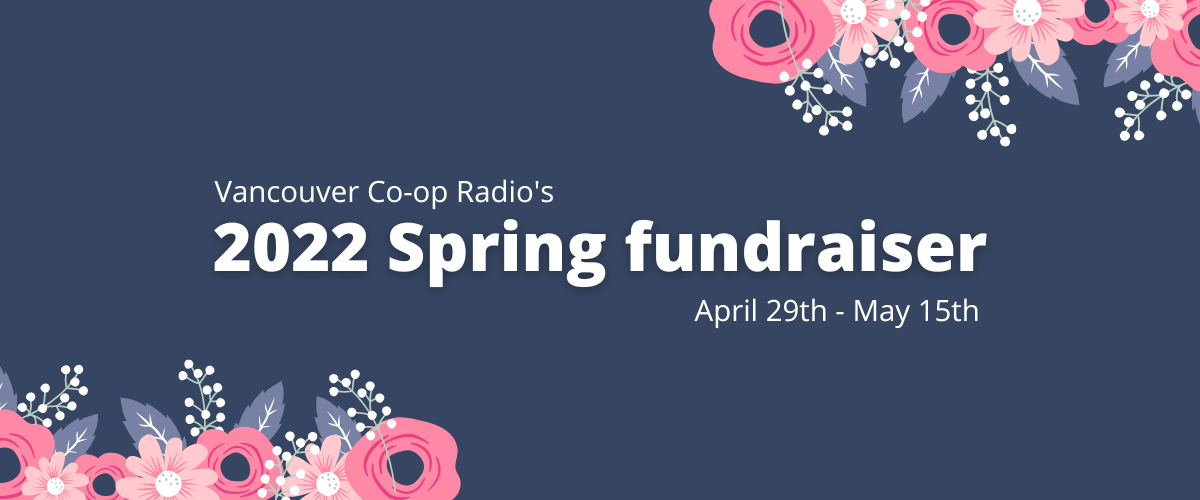 It's that time again! This Spring marks 47 years of Vancouver Co-op Radio and our annual Spring Fundraiser will run from Friday, April 29th to Sunday, May 15th, 2022.
This spring, we hope to raise enough money to make Co-op Radio more inclusive than ever!
After two years, we're finally welcoming back our programmers and the community to the station! But we need to make sure that those who want to stay at home can remain on the air by giving them the option to continue recording their shows or go on-air live from home.
Today, our programmers can:
record from home,
record from the station,
go on-air live from home
go on-air live from the station
We also want to make our station and our website more accessible. For that, we want to:
install a permanent ramp in front of the station,
install C02 monitors to make it easier for our programmers to decide if it's safe for them to come back,
make our website easier to use,
expand our reach with a new podcast platform,
meet the members of the community where they are, thanks to a mobile radio station.
Finally, since we didn't receive the big grant we hoped last year we are still looking at:
Upgrading studio desks to control sound transmission and isolate unwanted noise from microphones

Upgrading the acoustic panels in each studio to reduce echo in voice recordings

Upgrading as much of our old studio equipment as possible such as mixers, computers, phone links etc.
Did you know that it costs $25.000/month to run Co-op Radio?
That's very little compared to most radio stations.
Here's how you can help:
Renewing your Co-op Radio Membership or make a donation online at www.coopradio.org/donate-now

Renew or donate by sending an e-transfer to admin@coopradio.org

Renew or donate by calling 604-684-8494. During the drive, staff will be available to take your calls Monday – Sunday between 9am and 5pm. Call us beforehand and we will even meet you!

Renew or donate by mailing a cheque to us at 370 Columbia St, Vancouver, BC V6A 4J1.

Signing up to be a monthly donor. Click here for more information!

Shop our online store by visiting www.coopradio.org/store

Tuning in to 100.5FM or streaming online at www.coopradio.org and supporting our shows!
Grab a Co-op Radio Tote bag or a t-shirt of your choice if you give $250 or more!
Donors who give $250 or more between April 29th and May 15th, 2022 will automatically receive a Co-op Radio branded tote bag or t-shirt.
And everyone will be entered in a draw for a tote bag full of goodies.
 As always, we are incredibly grateful for your support!
---